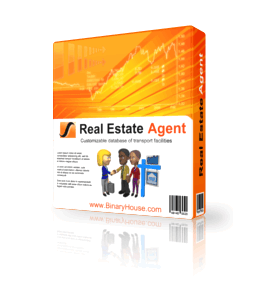 Create your own real estate database and improve your efficiency with Real Estate Agent. A powerful tool featuring a database and a scheduler, the program is a must-have for real estate agencies. Being very flexible and easy-to-use, the software allows a user customize the database management and create his or her own menu. Essential tool for real estate business, the program puts all the necessary information at your fingertips. The database allows storing the information on real estate, including pictures, plans, certificates, information about present and former owners. Real Estate Agent also enables creating client database, which will gain you full control over the deals.
A built-in scheduler allows managing the appointments and using your working hours in the most efficient way. Not only will the scheduler remind you of the appointment, but also it will show you all the essential information on the object the client is interested in. Such highly professional yet personal approach will be appreciated by your clients.
The software supports most of the formats, including HTML. You can also drag and drop the objects to appropriate time slots; it makes setting appointments extremely easy and convenient.
You can save appointments into an iCalendar file with the .ics extension. It facilitates data transfer between applications that use scheduler and other applications, such as Apple iCal, Microsoft Exchange Server, Android applications. The program supports saving financial statistics for any period of time. Handy features and user-friendly interface make this program essential for real estate business management.
Trial Period: 14 days
Price: $49.95
You pay for the program only the first time and get all new versions of this program for FREE and for lifetime!
System Requirements
To use Real Estate Agent, your computer must have one of the following Windows operating systems:
– Windows ME, 2000, 2003, 2008, XP, Vista, 7 (32-bit & 64-bit), Windows 8 Pro 32/64-bit, Windows 10