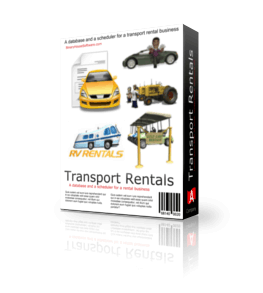 This is a more powerful version of Transport Rentals software, with all of the features of the standard version, but with the additional capability to share data in real time over the Internet. Let us host your online program! No need to install anything. We will host our web program for you in the cloud for lifetime! You do not need any IT skills to start using our web software.
A must-have for a transport rental business! The comprehensive yet flexible program enables creating a database of transport facilities and storing information about clients. Whether your rental agency provides cars, trucks, bicycles, tractors, boats or ships – Transport Rentals will allow you storing the full information on your facilities, including pictures, certificates and other details.
The program boasts intuitive user interface, which requires no previous experience. You can also customize the database to meet your specific data management needs and requirements. Besides, the program allows creating client database. Transport Rentals stores the full information on each client, including address, contacts and order history, and is always ready to provide it, ensuring personal approach. The program's powerful search engine ensures that you can access the information you need with just one mouse click. The program displays all the necessary details, saving you time and effort; you don't need to try to remember which transport facilities are available at the moment, while your client is holding on the phone: Transport Rentals serves as your personal assistant, always ready to find it out for you within a second.
The program can also be used for scheduling appointments and planning your working day; the built-in scheduler can also remind you of the transport facilities that need regular maintenance checkup. The program enables a user to save the price of the order and provides the financial statistics for any period of time. The software supports most of the formats, including HTML, iCal. You can also drag and drop the objects to appropriate time slots: it makes creating the database even easier.
Price: $69.95
After completion of payment, you will receive an email with your access details (user, password) and a link to your individual administration page and then you are in, for example:
Demo link: http://demo20.calendar4.com/
Admin Demo link: http://demo20.calendar4.com/AdminArea.aspx
Username: admin
Password: admin
System Requirements
To use Transport Booking System for Workgroup, your computer must have one of the following operating systems:
– Windows, Mac OS X, Linux, iOS (iPad), Android (tablet).
FAQs
Will I be able to access the administration panel from anywhere?
Yes, you only need a computer (or tablet) with a working Internet connection – regardless where you are.
How to embed the online software into my website?
Copy the code below and put it in your web page where you want the calendar to appear:
<iframe src="http://demo20.calendar4.com/" width="100%" height="100%" seamless style="border: 0″ frameborder="0″ ></iframe>
How secure is my data?
The admin panel of your script can only be accessed with the valid log-in details. Only authorized by you people will be able to get to it. Since your script will be hosted with us, we will make regular backups of your information and will keep it safe from illicit third-party actions.