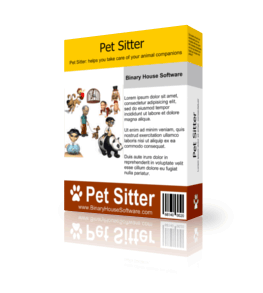 This is a more powerful version of Pet Sitting software, with all of the features of the standard version, but with the additional capability to share data in real time over the Internet. Let us host your online program! No need to install anything. We will host our web program for you in the cloud for lifetime! You do not need any IT skills to start using our web software.
Pet Sitter is an easy-to-use powerful tool, perfect for those who run pet-sitting or dog-walking business and for those who simply want to take care of their animal companions properly. A comprehensive solution, the program allows creating the database of pets and events planned. It is absolutely essential for pet sitters and dog walkers, as it provides them with a tool to organize the business and to manage it effectively. It will also be of a great help for zoo-keepers, circuses and farmers. You can store any information on the pets, including medical records from veterinarians, the pet's personal diet and favorite toys, and more. Add as many comments as you wish, including certificates, vaccination and so on.
If you are into the pet-sitting business, you know that sometimes it is impossible to keep in mind every detail about the pet you take care of. But just imagine how wonderful it would be, to have at hand all the information you need! That's when the Pet Sitter comes in especially handy.
You can also add names and addresses of the owners of the pets. The program features search by the owner's name and by the pet's name. Besides, the built-in calendar makes it extremely easy to plan pet-sitting schedule. It will also remind you when it's time to feed the pets or to visit a veterinarian. Pet Sitting software enables a user to save the price of the order; statistics for any period of time can be provided, which is convenient while preparing a report. The software supports most of the formats, including iCal, therefore importing information from web-sites, forums and conferences is very simple. The program is designed to enable the communication between different scheduling applications. The user-friendly interface and lots of useful features of the Pet Sitting software for Workgroup ensure saving time and effort and for the quality pet sitting!
Price: $69.95
After completion of payment, you will receive an email with your access details (user, password) and a link to your individual administration page and then you are in, for example:
Demo link: http://demo21.calendar4.com/
Admin Demo link: http://demo21.calendar4.com/AdminArea.aspx
Username: admin
Password: admin
System Requirements
To use Pet Sitting Software for Workgroup, your computer must have one of the following operating systems:
– Windows, Mac OS X, Linux, iOS (iPad), Android (tablet).
FAQs
Will I be able to access the administration panel from anywhere?
Yes, you only need a computer (or tablet) with a working Internet connection – regardless where you are.
How to embed the online software into my website?
Copy the code below and put it in your web page where you want the calendar to appear:
<iframe src="http://demo21.calendar4.com/" width="100%" height="100%" seamless style="border: 0″ frameborder="0″ ></iframe>
How secure is my data?
The admin panel of your script can only be accessed with the valid log-in details. Only authorized by you people will be able to get to it. Since your script will be hosted with us, we will make regular backups of your information and will keep it safe from illicit third-party actions.