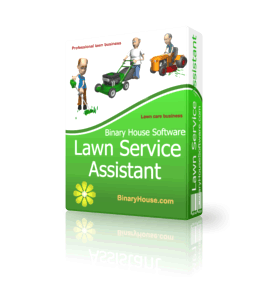 This is a more powerful version of Lawn Service Assistant, with all of the features of the standard version, but with the additional capability to share data in real time over the Internet. Let us host your online program! No need to install anything. We will host our web program for you in the cloud for lifetime! You do not need any IT skills to start using our web software.
Professional lawn care business software for Workgroup. Now you can keep track of all past tree service jobs, lawn mowing job or snow removal jobs. Use the calendar to schedule anything you want, such as appointments or equipment maintenance. You can use the scheduler to find the best fit by viewing dates, times and distance of other scheduled services to set an appointment for a customer. Each customer's history is stored and conveniently displayed on the customers main screen for ease of look up. This historical recount is complete and permanently stored with each customer for quick reference. It's perfect for workers to plan working hours so that the orders do not overlap with someone else and keep track of scheduled appointments. It'll store the information about clients, such as their address, phone, email and comments.
This modern and extremely handy program makes management a real pleasure. The program has a handy interface to calculate and show the "fee charged", helping you to make decisions quickly. It's possible to create reminders to alert workers about the things they should do. Available is an automatic search and auto-field filling for a customer, who has already been entered to the database. You can view the information about payments, daily income for any day at any moment when you need it. For those people, who work in Microsoft Outlook, it's possible to export data. Exchanging data with other applications (Apple iCal, Microsoft Exchange Server and Android applications) is made easier with the new support for the iCal data format. You may obtain a collection of days which are considered holidays for the specific country, and add these holidays to the scheduler. In case of crashes or virus attacks, there is an auto backup function with a possibility to remove old archives automatically.
If you purchase a product now, you're entitled for a Lifetime License. You pay for the program only the first time and get all new versions of this program for FREE and for lifetime!
After completion of payment, you will receive an email with your access details (user, password) and a link to your individual administration page and then you are in, for example:
Demo link: http://demo12.calendar4.com/
Admin Demo link: http://demo12.calendar4.com/AdminArea.aspx
Username: admin
Password: admin
System Requirements
To use Lawn Service Assistant for Workgroup, your computer must have one of the following operating systems:
– Windows, Mac OS X, Linux, iOS (iPad), Android (tablet).
FAQs
Will I be able to access the administration panel from anywhere?
Yes, you only need a computer (or tablet) with a working Internet connection – regardless where you are.
How to embed the online software into my website?
Copy the code below and put it in your web page where you want the calendar to appear:
<iframe src="http://demo12.calendar4.com/" width="100%" height="100%" seamless style="border: 0″ frameborder="0″ ></iframe>
How secure is my data?
The admin panel of your script can only be accessed with the valid log-in details. Only authorized by you people will be able to get to it. Since your script will be hosted with us, we will make regular backups of your information and will keep it safe from illicit third-party actions.