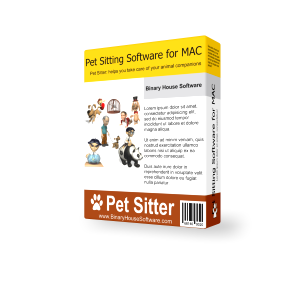 Pet sitting and dog walking services are becoming rather common in our societies and like any other service provided, proper management and records of appointments and services performed are need to be managed efficiently in order to fulfill all commitments and to take care of the animals in the best possible way. Pet Sitting Software designed to be used by Mac (OS X) users, offer a comprehensive solution to all recording and management details related to pets and planned events.
This software can also be effectively used by circuses, animal farms and zoo keepers who require managing activities related to pets and animals. The program allows proper scheduling of all tasks related to animals besides storing in any particular details, notes and even veterinary records for all or any one animal. Additional information such as favorite toy, food and other related favorites can also be recorded. Vaccination dates can also be stored in the database, making it impossible to forget anything related to animals to take care of.
The simple and easy to use software offers an interface that can be used and operated by anyone very easily. The main menu depicts five icons Pet Sitters, Clients, Reports, Scheduler and Backup/Restore Options.
The Pet Sitters section can be used to save profiles of every pet sitter that offers services including details of services offered and personal details (name, contact details). This section can be used to view availability of pet sitters and set new appointments. Also existing engagements of any pet sitter can also be viewed through this section to locate him or her.
The Clients section holds in profiles of all customers (pet owners) including contact and personal details. Additionally to make identification process easier, the program also allows photo capturing of owners and pets to be saved with their profiles. Photos of pet sitters can also be saved with their profiles. Additionally the option of making direct phone calls from the program to any number saved in the database is always present.
The Reports section offers a complete breakdown of all daily earnings that can be checked whenever required. The Scheduler is another feature that appears in form of a calendar showing daily accumulated earnings on every date panel. Through clicking the date, further notes about earnings can be viewed pertaining to job details, earnings per job and pet sitter who offered the particular services. Scheduler can also used to view and make new appointments. Also viewing prior appointments is easy as users simply require flipping through the dates to check already set appointments.
Since the program holds in extensive data related to services users offer, the program offers the opportunity to restore all this detail on other devices including Windows and Android. This also offers as a Backup option of all information saved. To activate this feature, users will require installing relevant programs from respective stores.