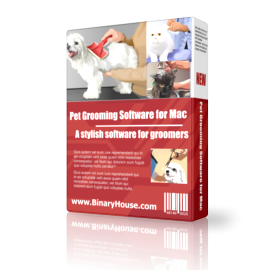 Management, Organization, Administration are just the different facets of one basic activity that leads to the success of businesses, whether it be product based or a service based setup. Same is the case with pet grooming businesses that require maintaining of a proper record of all services, service providers, appointments and other similar activities involved.
Following the traditional pen and paper method to record all daily activities is not only an arduous task but also very time consuming, taking away the efficiency out of the process instead of adding on to it. The pet groomer software that works on Apple Mac (OS X) is one such application that is creating new ripples of success in the pet groomer's business management.
This extremely helpful software offers a personal database that is capable of storing in all pet groomer business related information, including a complete record of all pets to be groomed and the complete record of different groomers. This allows the administrator to have instant access to a wealth of information using which prompt decisions can be made including appointments and allocation of staff members towards the various activities of the business.
The pet grooming software is speedy, easy and simple to work with and can be easily operated by even a novice computer user. The easy to use interface menu offers four distinct option of
Groomers,
Clients,
Reports and
Scheduler
In the Groomers section, details and information of every individual groomer can be stored, efficiently, allowing it to be used in reference with future appointment settings and checking out the engagements of every groomer. An added advantage of this program is that you can also call any client directly from this option of the software via Skype and discuss or inquire details of the appointment or other matters.
The Clients section similarly stores is all related information including contact details, address, and even details of appointment related to previous and future visits. The pet grooming software, designed specifically to run in compatibility with Mac OS also allows the option of capturing and adding in photos of both the groomers and the clients in the software. This is specifically beneficial for customer services, as you are now better aware of every client personally via this program.
The Reports section allows a quick view of the groomer's daily engagements, along with details of daily earnings that are shown at the bottom corner of respective date in the program's calendar. Clicking on the date reveals appointments, details of the job and daily earning details. You can also find a detail workout of how much a groomer earned individually, besides an aggregate totaled daily earning figure.
The Scheduler, as the name suggests allows checking which groomer is free to be allocated to a certain job, before fixing any new appointments.
You can also install a program from the respective stores that allow having a back up of all the data fed into the program, saving it in the database of Android or Windows Phone.