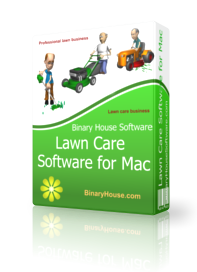 Concerned on how to manage your lawn care business? As big a problem as it may seem, the answer today is very simple. The "Lawn Care Business Software" designed especially to be used on Mac (OS X). The software allows you to perform the daily functions in an efficient way through recording a treasure of information that can be accessed instantly whenever the need arises.
May it be recording your previous job details or fixing appointments for new one, contacting clients for information or assigning jobs to workers, the lawn care business software aids in every possible activity of the business, allowing you to focus on its growth, while the software takes care of the other petty issues.
The calendar in the software allows you to remember and fix appointments as well as equipment maintenance, while the client and worker profile offer all required information you may need for the completion of any job. The workers too can benefit from the program through managing their work hours and scheduling daily tasks accordingly. Through regular consultation with the software missing or overlapping of any job or appointment is impossible.
The biggest feature of the program is its simple and easy to use interface allowing it to be used even by an individual who has not before used any such software. The main menu consists of four icons, the Workers icon, the Clients icon, the Reports icon and the Scheduler icon.
The Workers section allows storing in, the complete profile of every worker along with job description and appointments of the worker, making it easy to check availability for instant service allocation or for setting up new appointments.
The Clients section holds the complete profiles of every customer the business has served along with details of previous jobs done and any future job to be performed. It also contains complete contact information including phone and mobile numbers, address, email, fax, etc. An additional feature provided in this software is the choice of taking a photograph of the customer if he or she approves of it for the record. The program also allows direct calls to be made from the program to any Skype ID, further facilitating contact with clients.
The Scheduler section contains a calendar that allows viewing of all details pertaining to a certain date such as appointments, details of jobs to be performed and the total earnings of the day. You can also consult the calendar and schedule new appointments.
The reports section allows you to add in notes about any particular job or any specific instruction s from the client regarding a job. You can also add in any special comment about a worker or any special considerations for an equipment to be used or maintained. The section also reveals the total earnings of every worker which is also accumulated and report on top of every date on the calendar of the program.
In order to keep all your data safe and secure and to make it compatible with other mobile devices you can also arrange a backup of your database on your Windows or Android phone through installing a program available from their respective stores: Lawn Care Software for Mobile